Outdoor knitting set
In August and September, we offer a yarn package in matching colors for socks, mittens, and a hat. Our ultra-strong, yet supersoft and very popular dvergasokkar yarn for the socks and our famous hulduband for the hat and mittens. All spun at our farm with 100% Icelandic wool. It will soon get more chilly here in Iceland and farmers will head to the mountains to gather their sheep and bring them home.
To keep them warm while herding the sheep we decided to offer those yarn packages at a lower price for two months. The offer is open for everyone, not only farmers.
Send an e-mail with the order of your choice to:
huldauppspuni@gmail.com
and we will send it to your home.
Price per package is 70 USD / 60 EUR
Eurovision yarn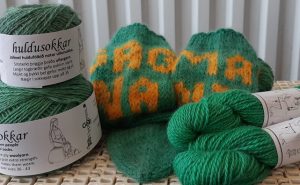 In the box, you will find Eurovision yarn, fit for knitting one pair of socks for adult or two pairs of socks for children.
Price 30 EUR / 33 USD (without shipping)
Sock yarn
When we spin our sock yarn, we collect wool with the longest of tog threads and make sure it is strong. We do not use the fiber separator which usually takes some of the coarser hair away. We want all the tog to be in our sock yarn. Its length and the way we spin it makes the yarn so strong, you can't break it with your hands, without feeling pain in your fingers, so scissors are a necessity when knitting with our sock yarn.
Sock Yarn
In the box, you will find my 100% Icelandic strong sock yarn "dvergasokkar", fit for knitting one pair of socks for adult or two pairs of socks for children. Colors that are available are: white, black, grey, and brown. Please mention in your order the color you prefer.
Price 24 EUR / 26 USD (without shipping)
Hipsum-haps shawl
Hipsum-haps shawl is made of my soft yarn dís. Dís is delicately spun, always from lambswool only. It is fingering weight or laces weight whereas 100 gram is about 440-480 meters. It can differ a bit between fleeces. We use lambswool for this product to get it as soft and fine as we can. You can choose from two packages, shawl that has yellow color in it or shawl that has mostly gray colors that are the natural colors of my sheeps.